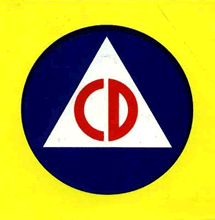 The Maine Emergency Management Agency (MEMA) was originally established under the Maine Civil Defense and Public Safety Act of 1949, which authorized the Governor to establish, within the Executive Department, a Civil Defense and Public Safety Agency. Anecdotal evidence holds that the formation of the Agency came about after the great fires of 1947. The story goes that it was recognized that better State coordination in times of major emergencies could greatly assist the affected counties and towns.
A 1972 amendment, re-titled the Maine Civil Defense Act, caused the Agency to be re-designated as the Bureau of Civil Defense within the Department of Military.
In 1974, the Department of Military was re-designated as the Department of Defense and Veterans Services, and the bureau named changed to the Bureau of Civil Preparedness.
In 1987, the name was changed again to the Maine Emergency Management Agency. Agency structure and name have remained unchanged since 1987, although the Department was renamed the Department of Defense, Veterans and Emergency Management in 1996.