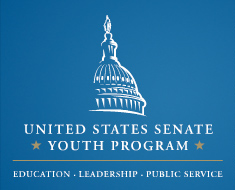 The United States Senate Youth Program (USSYP), established in 1962 by U.S. Senate Resolution, is a unique educational experience for outstanding high school students.
The 62nd annual United States Senate Youth Program Washington Week is being planned for March 2-9, 2024. The program will be a comprehensive public service, leadership and education experience including speakers from the three branches of government and the national media, and each delegate will receive the $10,000 undergraduate college scholarship in the name of the United States Senate. Additional details will be made available upon selection. Read the most recent press release here.
Maine delegates are nominated by their principal and must meet the following eligibility requirements:
Students are permanent residents of the U.S., and one of their parents or guardians is a legal resident of Maine.
Students are juniors or seniors living in Maine and attending a Maine high school through graduation in 2024.
Students must be interested in and participating in leadership, public service and government related activities.
Students must be able to attend the entire 2024 Washington Week, March 2-9, 2024.
Students must be approved by high school principal (or designated representative) as the only nominee from school that the student is attending.
Students must have been elected or appointed to a qualifying leadership post for the current school year. Qualifying leadership posts include, but are note limited to:

Member or officer of student council, student senate or equivalent student government organization
Class officer – president, vice president, secretary or treasurer
Student representative on a district-, regional- or state-level civic and/or educational organization
Application Process for the 2023-24 School Year
Early September

: Information and instructions communicated to Maine educators and administrators. Each high school building principal may nominate

only one

 eligible student for consideration.

October 13 (11:59pm): Deadline for completed applications to be sent via email to:

Beth Lambert, Maine USSYP Coordinator - beth.lambert@maine.gov
Any applications received on October 14 or later, will not be considered.
Any incomplete applications will not be considered and the applicant will not be contacted.

No later than October 27: Up to 10 finalists will be notified of advancement to the final round.
Early November: The finalists will convene for a final competition with the selection committee hosted by the Margaret Chase Smith Library.
December 1: Deadline for Hearst Foundation to be notified of Maine's two delegates and two alternates.
January: The two finalists and two alternates will be notified and announced.
Application information:
2024 U.S. Senate Youth Program Brochure
2023 U.S. Senate Youth Program Digital Yearbook
2023-24 Application Materials
---
Congratulations to the 2023 winners:
Congratulations to previous winners listed below! You can also read about the past experiences of Maine's USSYP delegates in their own words:
2022 - Eleanore Allan-Rahill
2022 - Fallon Eggett
2021 - Iann Leigh
2021 - Hilton Scott Peterson
2020 - Elena Clothier
2020 - Michael Delorge
2019 - Joseph Bergeon
2019 - Jay Philbrick
2018 - Caroline Baldacci
2018 - Virginia Hugo-Vidal