The Coordinated School Health Team provides professional learning, resources, and guidance to school personnel through a lens of equity. This work fosters healthy, safe, and inclusive work and learning environments, promotes health and physical literacy, and improves access to health care services and resources for all. The team uses the US CDC Whole School, Whole Community, Whole Child (WSCC) framework to guide our work.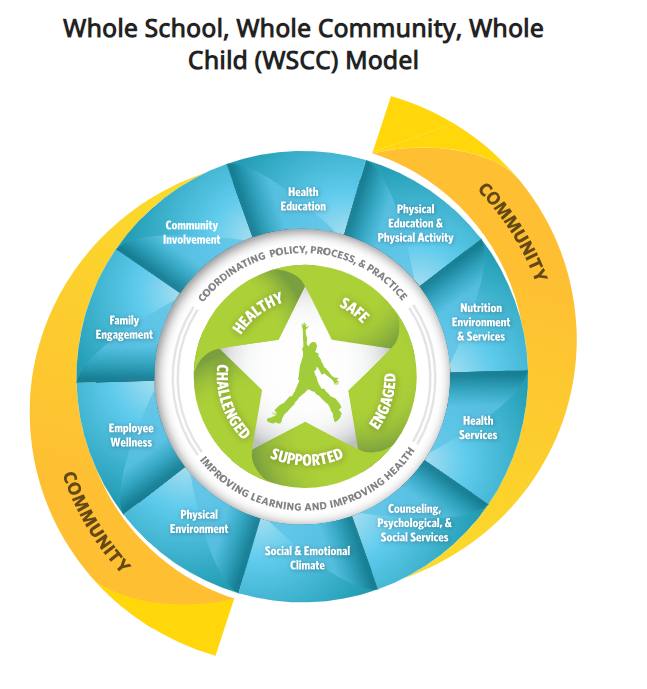 Establishing healthy behaviors during childhood is easier and more effective than trying to change unhealthy behaviors during adulthood. Schools play a critical role in promoting the health and safety of young people and helping them establish lifelong healthy behaviors. Every school has a unique set of needs. To better serve their students, school leaders and staff can incorporate the WSCC model components as they see fit. To see the WSCC model in action, visit the US CDC Virtual Healthy School.
The WSCC model meets the need for greater emphasis on both the psychosocial and physical environment as well as the increasing roles that community agencies and families play in improving childhood health behaviors and development. The WSCC model also addresses the need to engage students as active participants in their learning and health. CDC and the ASCD, the association for the organization for professional learning that supports educators and instructional leaders in providing students with a quality education, developed the WSCC model—in collaboration with key leaders from the fields of health, public health, education, and school health—to strengthen a unified and collaborative approach designed to improve learning and health in our nation's schools.
Contact
Emily Poland, MPH, RN, NCSN 
School Nurse Consultant
Coordinated School Health Team Leader
Email: emily.poland@maine.gov