Education Loan Trunks
These convenient, hands-on, activity-based teaching kits will help your students understand wildlife identification, management, and proper conservation practice! The kits can be loaned to help enhance the lessons that you plan. The trunk is a great tool for homeschool groups, for use in school conservation fairs, Envirothon practice, and by scout groups and classroom teachers.
Each kit contains a list of materials and some ideas of how to use the materials. Each kit can be signed out by calling the office where it is available. You may be required to show proof of identification, contact information, and place a small security deposit. Due to high demand each box is available for up to two weeks and needs to be reserved in advance. You must pick up and return the trunk to the location from which you borrowed it.
Bat Trunk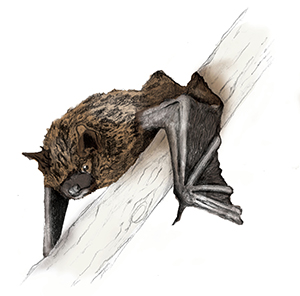 Are you looking to increase your knowledge about bats and help others learn too? Borrow the Bat Trunk which is full of different bat activities and resources for you and your students to explore.
The Bat Trunk was developed by Project Edubat to increase awareness about the ecological and economic importance of bats. Since 2006, white-nose syndrome has caused big declines of many bat species in North America, and protecting bats is more important than ever. The trunk has a variety of educational resources for all ages, including lesson plans, books, bat silhouettes, skull, and replica, and lots of other fun hands on activities to learn more about bats.
Augusta
Inland Fisheries and Wildlife Augusta Headquarters
Attn: Laura Craver-Rogers
353 Water St
SHS 41
Augusta, ME 04333
Telephone: 207-592-0750
laura.craver-rogers@maine.gov
Flying WILD Bird Trunk
Learning about birds can be fun and usually it is not too hard to find some to watch. Pigeons in a parking lot, crows on a wire, chickadees in your yard, or ducks on a pond, birds are everywhere in Maine. Borrow one of these Bird Loan Trunks and discover some identification tips, how birds work, where birds live, and how you can help them.
Included in this kit is a copy of the Flying WILD curriculum activity guide. This book is part of the Project Wild program maintained by the Association of Fish and Wildlife Agencies and it introduces students to bird conservation through standards-based classroom activities, environmental stewardship projects, and activities you can do around the home or school. Flying WILD encourages schools to work closely with conservation organizations, community groups, and businesses involved with birds to implement school bird festivals and bird conservation projects. After you try this book out check out how to get a copy or one of the other Project Wild books here in Maine.
The Flying WILD Bird Trunk includes the Flying WILD activity guide, plus items such as a variety of bird books, children's books, posters, replica skulls, and more!
This trunk is available from two locations. See contacts below for more information or to reserve one today. A small deposit may be required to ensure full return of all materials.
Maine Audubon
Attn: Linda Woodard
20 Gilsland Farm Road
Falmouth ME 04105-6009
Telephone: (207) 781-2330 ext. 212
Email: lwoodard@maineaudubon.org
Maine Dept. Inland Fisheries and Wildlife – currently unavailable due to needing repairs
Attn: Laura Craver-Rogers
41 State House Station
353 Water Street
Augusta, ME 04333
Telephone: (207) 592-0752
Email: laura.craver-rogers@maine.gov
Loon Trunk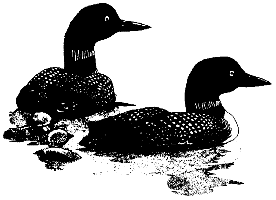 Maine Audubon has assembled a new Loon Kit with funding from the Maine Outdoor Heritage Grant Fund.
The kit is available for free loan for school teachers, lake associations, summer camps, scout groups and others who would like to teach children about loons.
The kit includes an actual loon study skin, real loon egg, skull, wing and bones; along with other loon resources such as a variety of books, posters and publications about loons.
There is also a loon curriculum aimed at grades 3-6, with background information, discussion questions and classroom activities. Click here to download the curriculum for free.
To reserve a Loon Kit from the Maine Department of Inland Fisheries and Wildlife, please contact Laura Craver-Rogers at laura.craver-rogers@maine.gov. The kit must be picked up from and returned to the Augusta office. Generally, kits are loaned for a week at a time and a security deposit is required at pick-up.
You can learn more about loons on the
Biodiversity Research Institute website
.
Wildlife Trunk/Safari in a Box
Are you looking for a Wildlife Adventure right in your classroom? The Wildlife Trunk is a kit filled with a variety of animal pelts, skulls, tracks, scat replicas, wildlife fact sheets, activities, DVDs, videos and posters all neatly packaged in a large tote trunk. A guide to animal skulls, wildlife classroom activities and Project WILD materials are included.
The Sables Club, a part of the Maine Chapter of Safari Club International, has fund-raised for most of these trunks in full or part. The Maine Outdoor Heritage Fund has also funded many of these kits through a grant.
Wildlife Trunks are at locations statewide. Please contact the facility nearest to you to arrange to borrow the trunk. A small deposit may be required to ensure full return of all materials in the trunk.

For more information, please contact Laura Craver-Rogers at (207) 592-0750 or laura.craver-rogers@maine.gov
Wildlife Trunk Locations
Ashland
Inland Fisheries and Wildlife Ashland Regional Office
Attn: Traci Bushey
PO Box 447
Ashland, ME 04732-0447
Telephone: (207) 435-3231 ext. 1
Traci.Bushey@maine.gov
Augusta
Inland Fisheries and Wildlife Augusta Headquarters
Attn: Laura Craver-Rogers
284 State St
SHS 41
Augusta, ME 04333
Telephone: 207-592-0750
laura.craver-rogers@maine.gov
Bangor
Inland Fisheries and Wildlife
Resource Management Office
Attn: Diana Harper
106 Hogan Road, Suite 1
Bangor, ME 04401
Telephone: (207) 941-4597
Diana.Harper@maine.gov
**Please see note below.
Falmouth
Maine Audubon Society
20 Gilsland Farm Road
PO Box 6009
Falmouth, ME 04105-6009
Telephone: (207) 781-2330 ext. 4
maineaudubon.org
Litchfield
Smithfield Plantation Trustees & Litchfield Conservation Commission
c/o Diane Clay, Chairman
2400 Hallowell Road
Litchfield, ME 04350
Telephone: (207) 754-9502
Phippsburg
Phippsburg Sportsmen's Association
272 Main Road
Phippsburg, ME 04562
Telephone: (207) 443-9426
Springvale
Melissa Brandt
York County Soil & Water Conservation District
21 Bradeen St, Suite 104
Springvale, ME 04083
Tel: (207) 324-0888 X 214
Fax: (207) 324-4822
info@yorkswcd.org
yorkswcd.org
Note: The trunk available at the Bangor Office is slightly different than the others listed above. Furbearer Fundamentals is a teacher resource that contains a three-week (or longer), multidisciplinary unit of study that focuses on furbearers found in the northeastern United States. It can be used in its entirety or broken into parts that can be used individually as supplemental educational materials and activities. The informational materials and activities are designed for middle school students but may be modified to reach both younger and older students. The Furbearer Fundamentals Kit contains pelts, rubber tracks and scat, skulls and reference books, various informational resources on furbearers and regulated wildlife management including: the web site conservewildlife.org on CD, videos on regulated trapping, the Trapping and Furbearer Management in North American Wildlife Conservation booklet and the Trapping in the 21st Century pamphlet. Also here you can access the Furbearer Fundamentals Manual (PDF).
Envirothon students use activity sheets to become more familiar with the pelts
and skulls in preparation for the regional wildlife test section.