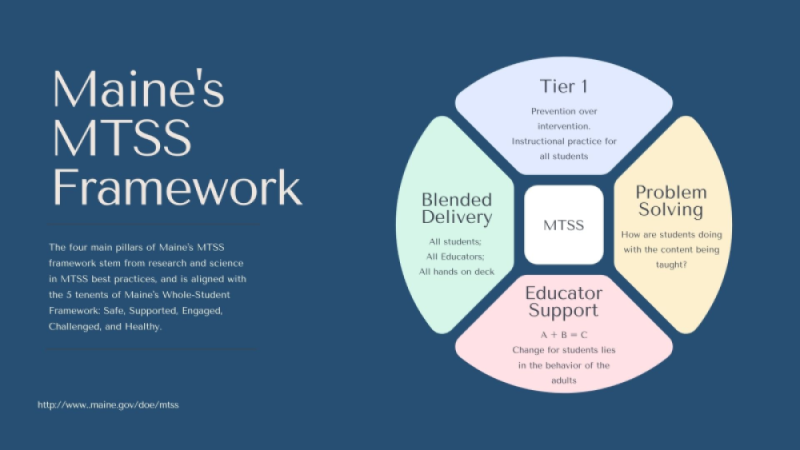 MTSS Overview 
In Maine, MTSS is defined as a comprehensive framework designed to address the academic, behavioral, and social-emotional needs of each student in the most inclusive and equitable learning environment. More than an RTI, MTSS is a whole-school framework that organizes the people, programs and policies into an integrated support system that begins in tier 1.
MTSS is a philosophy that organizes and leverages the systems that likely already exist in your school.  It is a system that relies on more than just evidence-based curricula and identification processes. MTSS analyzes and organizes all available resources within the school context, such as people, facilities, time, data, curriculum & instruction, and any additional resources.
Whole-School Systems Approach
The MTSS framework is driven by a strong and supportive leadership team, equitable policies and practices, innovative and well supported educators, effective instruction of high quality curricula, and effective processes for problem solving that is data-informed. Through the implementation and establishment of an MTSS framework, districts and schools increase attendance, elevate student engagement, lessen concerns about behavior, improve school climate, enhance social and emotional well-being, and boost academic performance for all students.
Instead of "why isn't the curriculum working for these students?" we ask "why isn't the curriculum working for all students?"
With students and student outcomes at the forefront of all decisions, resources can be better organized to address the needs of all students, from those with learning gaps to those who need advanced or accelerated curriculum and instruction through the development of tier 1 into a prevention layer rather than an intervention layer.  In order to achieve this, we advocate for an all students, all educators, all hands on deck approach.  Rather than fitting students into the needs of the culture or culliculum, instead, a quality MTSS challenges schools to work toward the culture and culliculum fitting the needs of the students by prioritizing and establishing a flexible and responsive culture strategically designed to adapt to the needs of the students in the school. 
Effective Problem-Solving Process 
A usable problem-solving process that is routine, consistent, and objective is a key component to a quality MTSS framework.  An effective problem-solving process will incorporate data collection, data analysis, and action planning to address where you are and creating a path for where you want to go.  Along with your problem-solving process, the team must adopt decision-rules and look-for criteria that will inform whether the current path is effective for improvement, or if changes need to be made.  
A strong and sustainable MTSS framework will go beyond academic achievement by ensuring students are supported through their behavior development and social and emotional development.  Academics, behavior, and social emotional approaches are weaved together to form a foundation that ensures that all children are ready for whatever awaits them after graduation.
Initiation and Installation of your MTSS
Establishing an effective MTSS is a progressive and iterative process.  When leveraged by implementation science; exploration, organization, customization, and eventually maintenance, plus the flexibility to know when you need to make adjustments, you will be able to create an MTSS that is efficient, sustainable, and effective for each and every one of your students.
MTSS Fact Sheet by Understood.org>