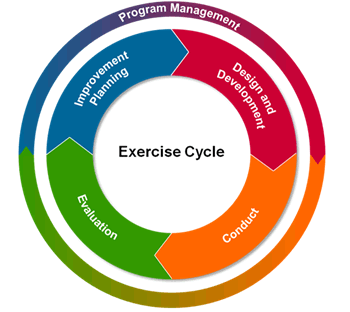 Maine Emergency Management Agency's Exercise Program provides an avenue for all emergency managers and responders, specialty rescue and support personnel to experience a large complex incident. MEMA provides technical, planning and training support to State, County and Local EMA offices and response agencies. We do this in a number of ways, including telephone support, budget development and meeting facilitation. We also assist in the field in the planning, delivery and evaluation of exercises and training.
After an exercise is complete, the work continues through the After Action Review (AAR) process. We track the improvements that are made in addressing any shortfalls or deficiencies that were demonstrated during the exercise. This may include additional training, targeted drills, follow-up exercises or the revision of the plans that were tested during the exercise.
State of Maine Integrated Preparedness Plan (IPP) (pdf)
Levels of Exercise
Emergency management exercises test the ability of any town, county, state or even home or business to respond to an actual emergency. There are five levels of exercise:
Orientation seminar: An overview or introduction.
Drill: A coordinated, supervised exercise activity, normally used to test a single specific operation or function.
Tabletop exercise: A facilitated analysis of an emergency situation in an informal, stress-free environment.
Functional exercise: A fully simulated interactive exercise that tests the capability of an organization to respond to a simulated event.
Full-scale exercise: Simulates a real event as closely as possible.